Double Winning Season 2008-09
· DEDDO RESERVES 3-2 STEEPLE ASTON RESERVES





The new season kicked off in fine style, despite God trying to drown the sinners, and everybody's favourite ref doing what he does worst.




This season sees the Reserves with many new faces, and having bade farewell to two of their awesome back four, Paul 'Attacker must die' Franklin and Jack 'Rarebit' Davies, both promoted to the first team.





The game kicked off with most of the regulars from last season, with Barney Alton at left back, and Kevin 'Kellogg' Tustain at centre back. Deddington were hesitant at the back, but Steeple showed no threat at all, until a break to the byline led to a low cross, which Kellogg, under minimal pressure, buried into his own net, to widespread disbelief and laughter from the sidelines.




The Reserves gradually pulled themselves together, and the breakthrough came after Matty Gibbs and Simon Hall switched wings (thanks Gilo!). Hall finished one-on-one after a defence-splitting pass left the Steeple backline failing miserably to play offside to level the scores, and Deddington began to dominate possession. Matt Garstin was lucky that as usual the ref was looking at the floor when he petulantly kicked a Steeple late-tackler, but other than that it was one way traffic. Hall thumped a header in from a corner, and Top Dollar Gibbs added a third after Rollason had put him through under pressure. An unbelievable reflex save from Ashley Clark told the story of the half.




Unfortunately, the Reserves played their usual trick of losing their way in the second half, helped in no small measure to an appalling piece of refereeing. Starting strongly, a lovely interchange of passes led to Top Dollar breaking clear, and floating a superb cross to the back post, where Mike Ayckbourn nodded in. Despite allowing the goal, our resident official decided to be influenced by the Steeple linesman frantically flagging, and changed his mind. Apparently Mike had been offside as the move started, but as far as the ref was concerned he could have punched it in, such was his knowledge of what was going on.




The Reserves lost their way quickly, and despite no threatening shots, Steeple grabbed a second by bundling in a corner. Luc Thornton and 'Flash' Jordan were brought on, but the game meandered away, with neither team really offering much. Not great, but the mighty Reserves get off to a winning start!
Saturday 13th September 2008:



HEYFORD ATH RESERVES 1-2 DEDDO RESERVES





Having fretted all week that the game may not go ahead, the weather baffled everyone by being blazing hot when the game kicked off.




With the same line-up as the victorious week before, Deddo took a while to start playing football. Matt Garstin was guilty of squandering many long range opportunities, but with Mike Ayckbourn bullying the Heyford backline and Top Dollar Gibbs on fine form, Deddo were stretching the game. With the atrocious pitch playing its part to the detriment of incisive passing, Deddo got the breakthrough midway through the half, the ball breaking eventually to Top Dollar Gibbs just inside the box, who slid it cheekily home past the less-than-quick-reflexed goalkeeper. Better football helped nullify Heyford's threat, and late in the half Pete Hovard poked a loose ball into the corner from the edge of the 18 to give the mighty Reserves a cushion at half time.




Despite fair warning, Deddo once again lost their way in the second half, surrendering initiative to Heyford. Despite Deddo lacking any fluency, Heyford's only threat came from launching throws into the box, a la Wimbledon/Stoke/Bolton etc. At times it seemed they were happier to belt the ball against a defender for a corner rather than attempting to get it on target. After numerous attempts, Heyford got a breakthrough with a contender for both luckiest and ugliest goal you'll see all season. A long throw, jumps and grunts ensue, an attacker gets a flick he's hardly aware of, Barry falls over, 2-1.




Luc Thornton added some extra pace to the attack, and Tim Spencer and Gilo held the fort well after coming on. It wasn't pretty, but the Reserves held on for a priceless victory that takes them within sight of the table summit.
Saturday 20th September:



DEDDO RESERVES 6-1 FENNY COMPTON RESERVES





The sun was shining, the grass was green, the birds were singing. What were they singing?





"WE ARE TOP OF THE LEAGUE, SAY WE ARE TOP OF THE LEAGUE!"





Noone was quite sure which Fenny Compton would show up. The team we humiliated 3-0 on their own ground last season? The team who beat us 5-1 in our last game of last season? In the end they had their excuses (Just 11 fit players for a start), but the Reserves were far too mighty to be denied their place at the top of the amateur football food chain.




Kicking off with another unchanged line-up, Basil Brush did himself no favours by fumbling a routine free kick at a striker's feet early on to give Fenny the lead.




Deddo soon broke into their stride, but missed chance after chance. Mike Ayckbourn's touch deserted him, Si Hall was taking too many touches, and Garstin's shooting was as woeful as ever. Finally, after Top Dollar Gibbs had controlled inside the 18, Ayckbourn lashed a shot across goal, and Simon Hall bundled the ball in. Playing some nice football, Deddington were looking strong. Left-back Barney Alton shot forward half the length of the pitch before striking the post, and Ayckbourn headed a glorious cross just wide.




Finally, the Reserves took control when Simon Hall lashed a chance home towards the end of the half. Mindful of the usual 2nd half collapse, managers Tim Spencer and Aaron Bliss, along with Captain Jase Timms, fired up the troops.




They needn't have worried. The Reserves got better and better. Garstin began to win the ball, Jase and Kev were immense, and Top Dollar grabbed his usual goal after a lovely lay-back from i forget who. There was still time for an exceptional Simon Hall free-kick, placed perfectly into the bottom corner, before Luc Thornton ran out to a fanfare from his family (awwwww!). With the way they were playing, it was no surprise Deddo extended their lead, Thornton brilliantly turning a defender inside out before finishing expertly one-on-one. Danny Keys came on the right wing, getting involved to good effect, and Thornton applied another supreme finish to bring up the half-dozen for the mighty Reserves!




Fenny Compton were shattered, Deddo were a class apart. Andy Perring replaced Ayckbourn, and the crowd were on their feet as Perring found Captain Jase Timms with a lightning fast overlapping run. It was like poetry in slow-motion! Unfortunately Jase lost his head in the box, still managing to fire in a decent effort which the GK turned around the post. Adriano had some advice for Jase on going in for the kill in the box.




So today, your orange-clad heroes sit TOP of Division Three! Shower them with adulation if you must, but they'll shrug it off as 'all in a day's work'. Maybe one day we can hope to emulate their greatness...
Saturday 27th September 2008:



STEEPLE ASTON RESERVES 3-5 DEDDO RESERVES





This was not the Steeple of earlier in the season. Heyford Park Skykings had folded, and most of their squad proceeded to sign on with Steeple Reserves, meaning a completely different challenge for the Reserves, with at least half of the new-look team looking very tasty on the ball.




Understandably, it was a mixed start. Steeple had much of the cohesive possession, and Danny Keys made a couple of amazing point-blank saves, but Deddington opened the scoring early on, when Top Dollar Gibbs, put through by Mike Ayckbourn, bore down on goal, and lashed across the goalkeeper. Deddington looked surprised themselves, and within 2 minutes they had conceded an equaliser, goalkeeper for the day Danny Keys not quite able to keep it out at the near post.




The wake-up call meant Deddo improved slightly, but a rare mistake from Simon Hall, attempting to shepherd a ball out at the touchline, let Steeple convert a low cross to take a 2-1 lead.




Deddo knew the importance of not losing another goal, and stayed firm under heavy pressure. Top Dollar relieved it when he slid around the last defender, and rounded the goalkeeper for the equaliser, taking him to 5 goals in 4 games. Steeple were cynically trying to intimidate Deddo's creative forces, with Simon Hall wiped out on the touchline, with staggeringly no booking. Perhaps this evened up Matt Garstin not getting booked for another petulatant kick at an opponent early on in the game. Deddo got some movement going in the closing minutes of the half, some lovely interchanges between Timmy Spencer and Top Dollar Gibbs leading to Spencer picking out Hall in the box, who promptly swivelled and fired home with a defender on his back. 3-2 lead at half time.




Deddo got their game on in the second half, with full-backs Barnold and Cumface supporting attacks well. Top Dollar picked the ball up on the edge of the box and cracked in a shot that Clark could only push onto the post. Luc Thornton flew in to smash the rebound home. Gibbs had to come off feeling an injury, and Gilo came on to strengthen centre mid, with Sam Rollason soon following. Sambo Rolo soon paid his dues when he glided around the 'keeper, and was felled like a Redwood. Si Hall stroked the penalty home with minimum fuss.




There was still time for Aaron Bliss to come on for an injured Kellogg, manning the trenches, before a diabolical free-kick decision led to a top-corner effort making the final score 5-3. So Deddo go into the cup break with maximum points!
Saturday 4th October 2008:



DRAYTON VILLAGE RESERVES 2-6 DEDDO RESERVES





What did we learn today?




Well, Top Dollar Gibbs learned lightning can strike twice, Basil Debenham learnt never to move the same side as your wall when assembling it, and Rolo learnt that every scuff counts.





This week brought a reshuffle of the D-Unit, Cumface pulling out with suspected shin-splints, Ringo with a grotty gut, Gaystain off to Uni. New recruit Ollie Byne started at right back, with Simon Hall tucked in to centre mid and Danny Keys switching effortlessly from goalkeeper to left wing. Big things were expected of the players in new positions staking their claim.




However, the Deddington touchline were dumbstruck after less than 10 seconds. Kick-off was laid out to Byne, who inexplicably laid the ball across his box to an unsuspecting Timms. An interception and gk rounding later, 1-0 to Drayton.




The Reserves couldn't get the ball under any control, but vitally equalised quickly. Danny Keys anticipated a boneheaded miskick by a Drayton defender, bustling into the box and firing the loose ball past Deddo Reserve old boy John Rowlands. More scrambles followed at both ends, with Deddo getting their heads screwed on after the horrendous start. A Top Dollar cracker put Deddo in front in no time, while substitute Josh Paroussis brought the house down after he had retrieved a loose ball, first tripping over a rope cordon, then booting the ball completely off-target!




Danny Keys put the Reserves into cruise control with a left-footed firecracker from the edge of the box, and Top Dollar added a fourth before half-time, leaving him halfway to collecting £20 off of his manager!




The second half saw Si Hall switched up front to see more of the ball, with Mike Ayckbourn in centre mid to get control of the centre of the park. Unfortunately the referee decided to expand his first half theme of giving Drayton every 50-50 decision by making ridiculous and suspicious decisions. A dubious free-kick on the edge of the box was put into an unguarded net, with Basil powerless behind his wall (don't ask). After this, there was a danger Deddo would let the referee ruin their impetus, but they pulled it together well. For the second game in a row, Top Dollar struck the post on his hat-trick!




Sam Rollason came on after the hour, and was put clean through. A one-on-one to break his duck, Rollason controlled, steadied.....and sent a hell of a scuff spinning into the corner of the net! Jason Berry came on, and promptly pulled off what looked like an impossible nutmeg as he fell over! Simon Hall still had yet to have his say, other than a few headers and some nice turns, but this changed before full time. Put through after some typical Drayton misjugment, Hall bore down on John Rowlands, gave him the eyes, and with the whole goal to aim at, he typically put the ball between Rowlands' legs as he dragged them together. Talk about through the eye of a needle!




The only thing left to celebrate was Adriano Perring making his bow. Getting involved straight away, he slipped a lovely ball through, which Gilo galloped onto, but with the goalkeeper to beat, flicked it wide. A great victory against the official nonetheless, next round here we come!
Saturday 11th October 2008:



DEDDO RESERVES 5-0 STEEPLE ASTON RESERVES





There's not many feelings better than wiping the floor with your closest rivals, especially when a group of drunken hecklers are 'hilariously' taunting you.




This was more than just another superb Simon Hall hat-trick, this was a controlled demolition, from beginning to end. Every player played a part in sapping the morale out of Steeple, and picking them apart like impatient vultures smelling a dying man.





Despite the now-obligatory insult from the First team, taking 2 potential reserve substitutes, then starting a player who had been promised as a late reserve sub, Danny Keys aparently attending the England game, Barney Alton in Milan and Top Dollar Gibbs recovering from his traumatic night out, the Reserves did the sizeable crowd proud in the bizarrely hot October sunshine.




The opening exchanges were cagey, and aside from an 'Ashley Cole' moment from Cumface which Basil nicely blocked, the Reserves looked comfortable. The rejigged D-Unit, featuring Timmy '2 step' Spencer at left-back, looked tight, the double-act of Matt G's in the middle were solid, and Thornton worked the right flank well.




From the sidelines, it looked a matter of time before Deddo made a breakthrough, and it came around about the 30 minute mark, after Steeple suicidally gave Simon Hall time and space on the left flank. Hall swung in the most perfect of deep, arcing crosses, which invited Luc Thornton to slam home at the back post.




Steeple had looked only threatening from long balls, with 'Carlos' making himself a nuisance, but the goal seemed to take the wind out of their sails. If the first did, then they were killed off just before half-time, when Gilo played a killer pass to Mike Ayckbourn, who thoughtfully ducked, leaving the ball to float right in between 18 yard box and last man. Si Hall gratefully galloped through, slalomed around the goalkeeper, and walked to the goal-line, before belting it in.




Half-time came with the orders to keep up the same level of performance, and the Reserves only got better and better. Simon Hall hooked in a loose ball not long in, and it was 3-0. Basil Debenham made a brilliant one-on-one stop at the other end, and this seemed to deflate what was left of the Steeple threat. Every Deddo player was confident, Jase Timms even trying to repeat last season's peach against Steeple, but a way off this time. Simon Hall produced more sublime skill when cutting outside three men outside the box, and whipping in a shot that produced a tremendous save.




Soon Matt Garstin produced a nice through ball to fellow centre mid Gilo on the edge of the 18, with Gilo cracking in a shot that took the most exaggerated deflection before spiralling over the goalkeeper for the fourth. Simon Hall inevitably wrapped up the game and his hat-trick late on, when he nipped through and stabbed the ball past the onrushing 'keeper. There was still time for Aaron to make a belated late appearance, and Deddo held out superbly for the first, and well-earned clean sheet of the season.
Saturday 18th October 2008:



DEDDO RESERVES 8-1 DRAYTON VILLAGE RESERVES





If ever there was a game of two halves...anyone leaving at half time would have been forgiven after the shambolic performance from the normally cool Reserves.




From the start the Reserves looked unbalanced, with the defence stretched constantly by Drayton's direct attacking. After possession was unforgivably squandered from a throw-in, a long ball behind Bliss was chased down, leading to a one-on-one dispatched clinically by Drayton.




Rather than inspiring Deddo, this led to heated debates and a string of missed chances from Rollason and Ayckbourn. The midfield were lightweight, the wings weren't used to good effect, and the defence was called on far too often.




Half time led to some frank exchanges, with an unfortunate bust-up or two. But with these criticisms ringing in their ears, the mighty Reserves charged out fired up and ready for a battle. A double substitution was deemed necessary to change shape and purpose, Mark 'Shaggy' Rouse replacing Gilo in centre mid, and Danny Keys replacing Jason Berry on the right.




Immediately the Reserves looked more like their normal selves, but the goal wouldn't come, the front two not as clinical as one would hope. After 10 minutes or so of the second half, Simon Hall stepped up to the plate, strolling past 2 defenders and delightfully sliding the ball in. Suddenly Drayton were exposed as an old team who were shattered. Minutes later, Hall danced into the box and stabbed the ball past John Rowlands. Drayton were undone. Shaggy was marauding around midfield, Timmy was full of nice touches, Jase and Kev were dominating, Danny Keys had fire in his belly and it was all falling into place.




Before Drayton could compose themselves, Si Hall had bagged his hat trick from a Keys cross, and Rollason had nudged a Hall shot in on the goalline, possibly coming off his backside. How does that cliche go again?




Deddo were rocking, with Si Hall converting another Keys cross to rack up FOUR goals to himself, and Ringo stabbing a loose ball into the corner of the net to make up for his first half effort that reached the top of a tree on the far side of the cemetery!




Josh 'Mystic Meg' Paroussis came on to widespread acclaim, and got involved immediately. Mike Ayckbourn was having a 'mare in front of goal, lifting an absolute stone-cold sitter over the bar, and fluffing more than one header, but finally this changed when Josh put in a decent cross for the big man to take down and hook past Rowlands as he flew out. Confidence is a wonderful thing, and soon he had another, which crawled apologetically over the line after it hit Rowlands. It didn't matter. Deddington had run riot. They had turned a defeat into an overwhelming victory. This without 3 key players. It takes more than a shit half to deprive those orange warriors of their place at the pinnacle of Division Three!
Saturday 25th October 2008:



BODICOTE SPORTS RESERVES 2-5 DEDDO RESERVES





What was that about a shit half? Jeez laweez, Deddington started even worse this week than last. Playing against crosswinds and the notoriously short pitch, the Reserves displayed appalling first touches and a total lack of imagination, besides Simon Hall, who nearly scored an audacious backheeled volley midway through the half.




By that time the Reserves had once again fallen behind, after possession had been surrendered on the edge of the box. A decent pass and a one-on-one finish was applied.




Unfortunately the Reserves only continued to struggle, although a lovely one-touch counter-attack move resulted in Cumface galloping through and forcing a very good save from the goalkeeper. Despite Deddo's lacklustre play, they were the only team forcing decent saves, with Basil Brush only really busy with goal kicks. Coming in for the break, they were given a suitable dressing down, but reminded that they are top for a reason.




The second half saw a different team emerge, and finally good players began to play. Purposeful and exciting, Deddington took the game by the scruff of the neck. Si Hall battered the crossbar with a superb header, but the breakthrough came from an unlikely, and slightly comical source. Kellogg lined up a free kick on the halfway line, and floated it beyond the line of attack. But the Bodicote defence decided to leave it too, and the keeper was dumbstruck as it bounced unattended into the net! Super Kellogg strikes again!




Deddo were playing their football, Timmy and Shaggy had the midfield controlled, Danny Keys was looking threatening, Mike was winning everything. Timmy won the ball in the centre and set off, releasing a perfectly-timed through-ball to the alert Rollason, who beat the offside trap and clinically slid it between the keeper's legs. 2-1 to the mighty Reserves!




With the partisan away following including a few WAGs, as well as Rob Blythe, Craig Doggett, Becky Lelli, ex-Councillor Rollason, Gilo Senior and the indomitable Adriano Perring, the Reserves were dominating, until a mix-up led to a corner conceded. The crowd were anxious that a goal's lead wouldn't be enough, and they were proved right unfortunately. The corner was swung too close to Basil, but he let himself down with a pitiful fumble the late Gambo would have been proud of, spilling the ball into his own net under no pressure. With his head in his gloves, Deddo kicked off again with renewed initiative. Top Dollar Gibbs made his return against his brother and pa, and won every challenge against them.




Bodicote were doubling up on Simon Hall to nullify his threat, so a tactical change switched Danny from up front to left wing, Si taking up position through the middle, and almost instantly receiving a through-ball, before typically rounding the goalkeeper to put the Reserves 3-2 up. A storm in a teacup ensued, Bodicote incensed that the legendary ref had waved play on when the kiddy had flagged for offside.




No matter, for the Reserves worked harder, and Mike Ayckbourn scored a peach of a chip to make it 4-2, sucking the life out of Bodicote. Gilo came on for a crocked Shaggy in centre mid, and ten minutes before the end, Mike put in a superb tackle on the edge of the 18, and unbelievably floated a carbon copy chip over the goalkeeper to add gloss to a convincing comeback. On come Josh Paroussis, who ran a lot, called a bit but never touched the ball! The Reserves still look down on the rest with impugnity. Revel people, revel.
Saturday 23rd November 2008:



DEDDINGTON RESERVES 3-2 FINMERE





Although destroying teams tastes good, somehow it is the victories gained through blood, sweat, persistence and a bit of luck which seem more...nutritious.




Missing Mike Ayckbourn, Shaggy, Kev Tustain and Barney Alton meant that the Reserves were down to the bare bones, with both co-managers starting, and Gilo covering at centre-back. Most of the team hadn't played in a month, and Captain Jase Timms was groggy to say the least. A backs-to-the-wall performance was required, and the start, although shaky, led to Si Hall typically leading the way, breaking into the box, and scuffing a deflected shot across the goalkeeper early in the game for a 1-0 lead.




Unfortunately the Reserves lost their heads after a string of poor refereeing decisions, culminating first in a penalty awarded against Matt Garstin for a supposed shirt pull, despatched for the equaliser. Soon every niggle was pulled up, and Danny Keys was lucky to stay on, after calling the referee a 'blind c**t' amongst other indiscretions. A booking dished out, and soon a conference with the Captain from the ref, after other players rounded on the official, following a diabolical second penalty award, when a Finmere attacker was held off by Gilo, only to clip his own legs together and take a tumble. Luckily the scored pen was ordered for a retake after encroachment, and Basil Brush pulled off a fine save the second time. Unfortunately it fell straight to the taker, who somehow miskicked the rebound against the post, giving Bliss time to slide in, and then deflect the second effort away for a corner.




The Reserves understandably looked very rusty and short of match practice, although in spells weaved some nice moves, Garstin and Bliss blazing long range efforts over, and Si Hall being crowded out. Finmere were penetrating well, probably from being given too much time on the ball, and the Reserves were making unforced errors time and again.




A half-time roasting was duly applied, and everybody rolled their sleeves up for the second half battle. With the cobwebs shaken off, the team were back in their stride, and after a few decent attacks, Sam Rollason lashed a chance home with style. With a lead to defend the game actually took another turn for the worse late on, and with little territorial advancement to show, Deddo were caught on the counter, a string of slips capitalised on when a Finmere attacker cut inside the box and wrongfooted Basil. For the next few minutes Deddo lost their heads, and only really regained composure when Simon Hall was switched from up-front to left wing, Danny Keys going the other way. The team instantly looked more balanced, and with 15 minutes to go, Luc Thornton was brought on to add renewed energy and aerial prowess to centre midfield. This paid off with a five minutes to go, when a nice move inside the box was expertly stabbed in by Thornton arriving late.




The last five minutes, which seemed suspiciously more like ten, were all-out war, the Ressies throwing everything on the line to hold out for a brilliantly ground out victory!
Saturday 30th November 2008:



CROPREDY RESERVES 4-5 DEDDO RESERVES




[after extra-time]





Biting your tongue until its almost a meal is a hard thing to do, but it was necessary before the conclusion to this uber-drama, ending in extra-time and glory to the team 2 divisions lower.




A spectacular comeback was punctuated by what i described politely as 'disrespectful' penalty awards against Deddington. But back to that later.





This match had previously been postponed, as apparently Cropredy's pitch is notoriously prone to waterlogging, but it was hard to see the logic in moving the match to a pitch that seemed to be a close cousin to a rice paddy field. Going near the centre-circle was like jumping into a clay pit, so it was a near-miracle that any football was played by either team, but to both teams credit, the best football happened during the first half.




From kick-off, Deddo realised the negative effects of not warming up properly, chasing shadows for much of the opening 15 minutes as Cropredy played the ball around in the final third with little pressure.




The quote-unquote referee first made his mark on the game early on, when he decided Cumface, on the stretch and with his eyes on his runner, intercepted a cross and deliberately played the ball back to Barry. A dopey decision but we took it on the chin, and a weak wall let the teed up shot pass through into the net.




After this, the Reserves only had themselves to blame, still allowing most of the Cropredy midfield time and space to pick passes and make late runs, resulting in a second goal miskicked onto the line, where Gilo miskicked onto the post, and Basil miskicked into the net. 2-0 and a shambles.




Finally the penny seemed to drop, and Deddington began winning 50-50 balls, being sharper with passes, and more confident on the ball. Not long after Cropredy's second, Danny Keys picked up some good possession down the right wing, and fired in a stunning ball. Sam Rollason evaded his marker and planted a Shearer-esque header into the roof of the net from the edge of the box.




Suddenly galvanised, Deddington were like rabid wolves, scenting blood and hunting in packs. Danny Keys and Luc Thornton were everywhere, and before long Rollason had poached his second for 2-2! Cropredy didn't know what had hit them, and they responded with the oh-so-macho tactic of going in late and hard. Nerveless, the Reserves gained the lead when Si Hall nodded in from a corner, going in 3-2 ahead at the break.




So the second half began, where the Reserves normally come into their own. They didn't disappoint early on, Matt Garstin striding forward purposefully from the giant hole in central midfield that is his calling card, and firing in a perfect cross to Si Hall, who controlled and stabbed home from close range. 4-2, and Deddo were in complete control, other than a few scares. The man in black began to grate on Orange nerves when soft free-kick after soft free-kick was awarded to Cropredy, the finest when a strapping lad with a good 2 stone advantage deliberately ran into an off-balance Bliss, and fell like a child struck with a frying pan. Bliss later came off with a hamstring tweak, replaced by Alton. For whatever reason, the Reserves fell into the trap very early of sitting back on their lead. Coherent attacks were negligible, and Deddo possibly set a new record for corners conceded. Despite this, they defended like warriors, until the ball was played into the box, and Jack Cumming went shoulder-to-shoulder with the runner. Before a challenge could be made, the Cropredy attacker, again with at least a 2 stone advantage, threw himself ridiculously to the ground. How the referee gave the penalty with a straight face only he will know, but suddenly he was starting to insult our intelligence. A long catalogue of diabolical studs-up Cropredy challenges, as cowardly as they were ugly, went unpunished, while a challenge that never came was deemed penalty-worthy. We nearly died of irony when realising that the diver, a hairy marshmallow of a guy, had earlier shouted at Garstin (upset at nearly having his shin split in half); "Its a man's game!" What a man indeed, we know whats on his Christmas menu: everything.




Rallying after this injustice, Deddo fought hard, but still could not string passes together, still resorting to last-ditch defending of numerous set-pieces, Basil Brush also pulling out a top-drawer save low to his right. With 5 minutes to spare, they could see the finish line, but they had reckoned without the ref dying to decide the game himself. A deflected cross fell to Danny Keys on the edge of the 18, who kicked an air shot, and the ball bounced tamely onto the back of his arm as he was spinning. Yet, just as he believed that Cumface's lunged interception was in fact a measured backpass, he saw Danny's inexplicable deflection as a calculated act of deception. That's right, he deliberately dummied the ball so he could knock it down with his arm instead.




Sometimes we lose our heads. To say i would have happily defecated on the referee's grave at this point wouldn't have been far from revealing how i felt. But what could we do? Run onto the pitch and pull his skeleton out of his mouth? No, we are civilised, so we swore a lot, then bit our tongues HARD. 4-4 and the extra-time that noone wanted in the game that noone wanted.




If the players felt anything like me, they could not have found the reserves to go on and win twice. But they are the Reserves, they have the reserves, and stuck two fingers up to the fat, cheating bastards in white (and black!). Josh 'Paralyis' came on for Jase Timms, who had also tweaked a hamstring, and it was all hands on deck, every player sweated blood.




In the second period, Cumface found himself in the Cropredy box, controlled a loose ball, and....watched Sam Rollason rinse his hat-trick off his toe!




Despite some shots that threatened the crossbar, Cropredy had no answer, until a nice move left a clean run on goal. As the attacker launched his foot, Josh came in from nowhere with a world-class challenge, sending the ball spinning for a harmless corner. Gilo marshalled the back-four superbly, and the tin-hats were deployed to magnificent effect, the men in Orange letting out a mighty roar of victory as the final whistle sounded to the tune of their 10th win in a row! Semi-Finals here we come!!
Saturday 6th December 2008:



KINGS SUTTON RESERVES 1-7 DEDDO RESERVES





We are in the season of snowmen, which is apt, because Kings Sutton were abominable.




For the first time possibly since Jason Timms was in charge, the First team did not need any Reserve players, so there were no excuses for the Ressies, lining up with a strong substitutes bench.




From kick-off the difference in class was clear, though Deddo were lacklustre in their touch and shooting, Top Dollar taking a touch too many when through on goal, and a wickedly clever Gibbs free-kick under the wall was not read by anyone in orange. It seemed to take an age for the first goal to go in, fairly early in the first half, when Luc Thornton sent in a good cross which Simon Hall just about controlled, then swivelled to bundle into the net.




More pointless dross abounded, before some neat interchanges sent Thornton scampering through on the right flank again, where he again picked out Si Hall, completely unmarked in the middle of the 6 yard box. Needless to say, net was soon met by ball.




The referee, who had already made few friends with his general OTT pronouncements before kick-off, then took away Kings Sutton's last chance of respectability when Si Hall went in slightly late on a defender, who retaliated with a cry of "Argh you c*t!" Thats right, STRAIGHT RED for the defender. Judging by his take-no-crap attitude, most of the matches he officiates in must end 7-a-side.




Deddington were their own worst enemies, not particularly convincing at all, despite Sam Rollason bagging a third from yet another Thornton cross to make it 3-0 at half-time.




Whatever malaise the Reserves were feeling would not go away, but there was more impressive football in the second half, with the defence and midfield coordinating better. Cumface bounded forward and nearly scored in the first half, and he made up for it by bagging a nice goal at the start of the second half, quick as ever to let everyone know who had scored it!




After a fruitless comeback thus far, Top Dollar Gibbs reannounced himself, when he collected a lovely through ball and rounded the 'keeper for 5-0. Unfortunately the Reserves seemed to be looking for individual glory too much as the game wore on, and a shocking lapse in concentration by too many flat-footed midfielders and defenders led to Kings Sutton tiptoeing into our box and firing past a bewildered Basil.




Despite this whacking setback, Deddo continued to waste chance after chance, Luc Thornton blazing over twice, Garstin bottling a one-on-one race to the ball, and Si Hall hitting the post, before Kings Sutton again found themselves in nosebleed territory, only for their striker to miss an absolute sitter with the whole goal to aim at. Mike Ayckbourn had been thrown on (not literally!), and he started a move which led to a shot parried out to Top Dollar Gibbs following in for 6-1.




Still confusion and cock-ups aplenty, Basil 'Butterfingers' Brush, despite much vocal criticism, dropping 2 simple catches at his feet, both times bailed out by alert defenders. Another very vocally critical player, Matt Garstin, had a goal teed up on a plate by Hall, but tried to be clever and ironically ended up looking like quite the retard, before contriving to miss another gilt-edged shooting opportunity.




But the final word went to the irrepressible Si Hall who beat his man on the outside, before cutting into the box, faking to go across the goalkeeper, but beating him simply at his near post. By no means impressive, it should have been double this score. Its all academic in the end, as the Reserves go to 2 semi-finals in the New Year!
Saturday 13th December 2008:



DEDDO RESERVES 3-2 ABK SPORTS RESERVES





Twas a case of Oranges and Lemons on this Saturday before the annual festival of Yule. These fine, fantastical figures of festive fun in fruity threads attempting to fire themselves into footballing folklore kicked off in opposing citrus fruit colours, ABK in yellow.





Despite missing Captain Jase Timms with a weak hamstring, Mark 'Shaggy' Rouse meant Deddo missed no leadership in defence. Possibly knowing ABK were no mugs, the Reserves kicked off with intent, competing well from the off. Some nice understanding and crisp passing created some early chances as Oranges were on top early on, and these good signs bore fruit, as Simon Hall tricked his way into the box. Crowded out by two men, he laid the ball back for Matt Garstin, who finally got over the ball and drilled in a low shot that took a deflection as it flew into the net, for his first of the season.




Deddington were still on top when ABK were given a route back into the game, a long ball into the box, and Shaggy cleared through his man, who collapsed for a dubious 5th penalty conceded in 4 games, although slightly less ridiculous than previous games. Basil got close, but ABK tucked away their equaliser.




Although Deddington struggled in centre mid again, the 'front four' were linking up well, some dangerous crosses from Top Dollar Gibbs not profited from. Si Hall again astounded the watching faithful with another first, lunging in from completely behind his man, yet somehow managing to tackle cleanly and brilliantly with his heel. At the other end, Basil made a superb one-on-one black, and soon Luc Thornton beautifully turned the ball 'around the corner' under pressure to Si Hall who galloped through, only to be practically dismembered by the last man inside the box. The referee, who we must remember sent off a man vs Kings Sutton for 'swearing' at Si Hall's tackle, inexplicably failed to even book the perpetrator for his assault.




Si Hall stroked the penalty home for a half-time lead, although not before ABK's mouthy number seven decided to taunt the whole crowd for shouting for a penalty. Luckily for him we are a passive bunch, or there may have just been a bloody pair of boots left on the edge of the 18!




The second half was clearly going to be more difficult, with the wind against Deddington, who started on the back foot. Timmy J. was not on his game, and produced the most dangerous cross for ABK to astonishment from the home crowd! He swiftly took himself off for Hovis. Basil and the back four were resilient to everything, until a first time hoof from midfield caught an ABK forward goal side of Alton, who recovered well to challenge, only for the striker to hold on brilliantly and flick past the onrushing Basil into the far corner for 2-2.




Still Deddo didn't panic, and some gaps at the back were corrected well. The referee again made a prat of himself, booking an ABK player for a meaningless trip in centre mid, which is presumably worse than the last man practically breaking someone's legs. Another infuriating feature was the constant 'stoppage rather than allowing a decent advantage', but when a Luc Thornton free kick was parried, Si Hall made the most of it by polishing off the rebound. The ABK guy was later sent off by the control freak man in black, and Deddo were strong and tight in seeing out the game for another cracking victory, the dozen not out!
Saturday 27th December 2008:



DEDDO RESERVES 6-3 HEYFORD ATHLETIC RESERVES





On a day cloaked in festive chill, when the air hung heavy with the possibility of forfeiting a vital match due to chronic lack of players for both teams, there came a Christmas triumph, if not quite a miracle.




Missing Mike Ayckbourn, Jase Timms, Matty Gibbs, Matt Giles, Josh Paroussis and Shaggy, the Reserves had the services of Pete Myson and Dan Hall to call upon as spare players. The starting line-up was the youngest ever, with Danny Keys the oldest player at 27. The back four, featuring Bliss, Cumface, Alton and Kellogg was possibly the smallest Deddington had turned out at the same time.





The game couldn't have started more disappointingly for the Reserves, a corner in the first 2 minutes was nodded over Bliss on the post for a Heyford lead. Calming their play down, Deddo worked their way back steadily with plenty of communication, and when Hovis slipped a nice ball through, who else but Simon Hall bore down and slipped the ball past the 'keeper, crashing in off the post despite protestations of offside. There was only one team in the game the rest of the half, the back four dealing comfortably with Heyford's negligible threat, Kellogg and Alton working well at centre back together. Kellogg himself claimed a partial assist when he leathered a free-kick which looked to clear everyone and drift out, only for Luc Thornton to fly in on the goal-line and nod it across, where eventually Si Hall prodded in following a scramble. The third followed soon after, Si Hall displaying some typical trickery on the edge of the box, and when the ball broke, Luc Thornton slid it home. Still the Reserves kept their composure, kept attacking, and a poor challenge well inside the box gave Deddo a penalty, which of course Si Hall stroked home for 4-1. The game appeared to be sewn up when Hall struck his fourth of the game for 5-1 in the second half, and yet our favourite referee managed to 'exert his authority' yet again with another joke of a decision. A reckless tackle from Danny Keys sent a Heyford player theatrically tumbling, but every player could see him standing a yard and a half outside the penalty area. Of course, yet another penalty was awarded, which slipped underneath Basil. Dan Hall and Timmy J. Spencer came on, and Deddington had plenty of chances to increase the lead, none more so than when Si Hall bamboozled 2 defenders and crashed a shot against the post, only for his brother Dan to miss an open goal from inside the 6 yard box!




Yet Heyford caught Deddo cold with a lofted ball through after an interception, which was taken on and finished well. A flattering scoreline, but a nice move down the right saw Ringo fire in a mis-hit cross which bounced before it got to Luc in the middle, who beautifully hooked it in for 6-3. Pete Myson came on to shore up the midfield and showed some nice touches, until he was brutally taken out by a typical Heyford 'challenge' in the dying embers of the game. Get well soon Myson!




With Heyford United Reserves away next week, this was a brilliant, if not flamboyant victory against the odds. Bring on the league leaders!!
Saturday 3rd January 2009:



HEYFORD UNITED RESERVES 1-0 DEDDO RESERVES





How the mighty titan is fallen. All beautiful things must come to an end, and away against the league leaders is where the glorious Reserves' magnificent winning run came to a disconsolate end. I'm not saying the result was in any way connected to the Reserves being forced to wear the dreaded '1st team' black and white kit, but they would not have lost this game playing in orange!





On a serious note, the legitimacy and priorities of the league were called into question from the off. The state of the pitch was at best risky, at worst dangerous. Covered with hard ice and in no danger of thawing, running across it was akin to skidding across a car park. Concerns were raised, yet the blancmange of a referee seemed to be far more interested in collecting his money for a game played than in whether or not a player gashed his leg open or broke his ankle. A sad situation, which was reiterated by the opposing captain, who seemed to relish the conditions, perhaps realising that Heyford's style of play was far more suited to the 'luck of the bounce'.




Simon Hall, mindful of a previous injury on similar conditions, was not comfortable starting, but the game kicked off nonetheless, in questionable spirit.




It was clear early on that scouting reports about Heyford's centre mid number 6 being the undoubted talent of the side were correct, every touch was measured, every pass precision despite the ice. Hovis was ordered to seek and destroy, but still had a task and a half on his boots. With no real coherence to any play, half chances came to each side as Heyford kicked downhill first, the most outstanding for Deddington when Matt Garstin hammered a first time pass brilliantly between centre-backs for Danny Keys, who fired his one-on-one against the onrushing goalkeeper.




After this chance, Deddington seemed to lose faith a bit, and numerous corners were conceded, dealt with not completely comfortably. The breakkthrough for Heyford came just shy of 20 minutes, when a long pass caught Kellogg blindside. As the Heyford player burst into the box, Kellogg lunged in and sent the ball back to Barry. The balding boob in black only saw the Heyford player and Cumface falling over, and couldn't wait to whistle, for yet another boneheaded penalty award. Basil telegraphed his dive, and the Heyford striker stroked to his right.




The first half then became pretty pitiful for the Reserves, not much to crow about in attack other than a lovely one-touch passing move between Luc, Hovis and Top Dollar Gibbs that was crowded out. Heyford nearly extended their lead when Basil somehow dived under a cross, but the half ended with just the one howler to nil.




The Reserves knew that with the downhill advantage the second half was theirs. Matt Giles came on for a crocked Kellogg at centre-back, and the Reserves kicked off with renewed purpose. Top Dollar Gibbs created a couple of chances with blistering runs down the right, but the best was a great through ball which saw Luc Thornton in the clear just outside the box, unfortunately attempting a fruitless first time lob with time to take it on.




At the other end the defence held out superbly, and Basil Brush clawed out a dangerous header as the half wore on. Simon Hall gave the ok to come on with 25 minutes left, and was pushed up front with Thornton. The game became ridiculously congested on Deddo's right wing, and Alton was pushed wide left, with Keys dropping back, to add more width. A fantastic pass from Garstin through to Si Hall in the area led to a shot that ended a hair's breadth over the crossbar, and later a Hall header agonisingly produced exactly the same result.




The Reserves knew it wasn't to be their day when Luc Thornton attempted to flick the ball over a defender inside the box, who clearly had both arms around his head and used them to block the ball. Ivan the Terrible (referee) turned down a penalty that was far more justified than Heyford's, and the result was inevitable. Although only one team was attacking in the second half, there was not enough spark or clinical edge where it mattered.




In truth, neither team really deserved to win this game, but the referee made his call and got his money, so to Hell with everything else.




Praise your warriors, who have broke new grounds in excellence, equalled a Reserve unbeaten record, and shattered any teams successive wins record. 1-0 away against the league leaders is not the end of the world. These fighters will pick themselves up, dust themselves down, and no doubt go on another immense run, culminating in the glory they deserve! Keep the faith =]
Saturday 17th January 2009:



WROXTON SPORTS RESERVES 1-4 DEDDO RESERVES





They say the true character of a team is displayed in times of adversity, in which case the mighty Reserves are most definitely set for glory.




While Heyford Utd Reserves followed up their fortunate win with a draw, Deddington showed their true colours with a comprehensive victory, to leave them trailing Heyford by 5 points, with 2 games in hand.




Deddington kicked off with a new look centre mid, Josh 'Paralysis' lining up alongside Ringo. The weather was decent, but the pitch still resembled an allotment. The game plan to bring Gibbs and Hall into the game at every opportunity nearly paid dividends, a lovely move between Mike Ayckbourn and Luc Thornton released Top Dollar in space on the right hand side of the 18, but the usually cool winger sliced wildly wide first time.




This miss seemed to affect the whole team for a period; when the ball was not being launched from one box to the other, the midfield were losing every 50-50 ball in a congested middle third. Deddo had a let off early on, when a corner floated straight in, with Basil flapping, though it was disallowed for a push, perhaps fortuitously. Simon Hall was being frustrated, and Top Dollar was not himself. Midway through the first half Wroxton had a free kick just inside their own half. With the slope and strong wind in their favour, the goalkeeper lined up a sweetly struck effort on goal. The gales carried it into Basil's hands, but, in a moment destined for youtube if any camera phone was present, our goalkeeper inexplicably let it slip, and to compound this, failed to react as it dropped dismally slowly into the net behind him.




Not that Deddington ever do things the easy way, having fallen behind in most games this season. The goal didn't seem to inspire the Reserves to go up a gear. Possession was squandered, and typically many corners were conceded! Some great defending from Matty Gibbs cut out a dangerous cross, and Simon Hall was dominant in the air defending, the wingers indispensable at the back rather than going forward, although this nearly changed, when a cracking cross from Top Dollar into the 'corridor of uncertainty' was missed by the strikers, but met on the slide at the back post by Simon Hall, the goalkeeper brilliantly blocking him out. It felt like one of those games for Deddington, until a well won corner was delivered into the middle, where Mike Ayckbourn reacted quickest to stab the loose ball into the net. Within minutes of this goal, Deddo got some great possession with Simon Hall advancing. The ball was worked across the box, and Timmy J. found some space to take a touch away from the crowd and rifle into the net. A barely deserved 2-1 lead at half-time.




The major positive of being ahead at the break was that the second period saw the Reserves kicking downhill with the wind at their back. Again, it was a mediocre start, although the midfield started to take control. The initiative was inexplicably lost when the dismal ref, our car-less friend, sent off a Wroxton player for swearing at an offside call. An early overlap from Barney Alton saw him tweak a hamstring, and Kellogg replaced him at left back. The sluggishness continued, and Basil Brush redeemed his howler with an exceptional one-handed save as a Wroxton player was about to round him and score a certain equaliser.




After moaning the whole game, Matt Garstin was brought on for a flagging Josh, and he conspired to change the impetus of the side, winning challenges and making a nuisance of himself. When Simon Hall was crowded out inside the 18, he laid the ball back for Garstin to take a touch and whip the ball perfectly into the corner of the net under pressure. The Reserves still seemed to struggle, and Wroxton might have felt aggrieved not to score a second, but with the introduction of Sam Rollason the team finally settled into their stride, with 15 minutes left. Cumface was crocked, Ringo dropped into right back, and Thornton dropped into centre mid. Rollason got involved immediately, with 2 fantastic crosses not profited from, while Luc Thornton used the extra space to run at the Wroxton defence, getting between 2 men and forcing the ball home through the goalkeeper for a brilliant fourth. A powerful message from the mighty Reserves, in black and white this week but soon to be back in glorious orange!
Saturday 24th January 2009:



GLORY FARM RESERVES 1-1 DEDDO RESERVES





Paint a picture of boiling frustration, on a mudbath of a pitch on an ugly day, and you get this.




The departing Simon and Garstinkle meant a few changes, the centre of midfield filled by Timmy J. Spencer and Luc Thornton.




Yet once again, the old Reserve trait of giving away gifts within seconds of kick-off were evident. A through ball was about to be cleared by Jase Timms, but kicked up off of one of the many divots, putting through a striker who scuffed it past a wrongfooted Basil, inside 2 minutes.




The first half was a bit of a mess as far as cogent play went, passes constantly too far ahead of their targets, shots not clinical enough, although both teams exchanged woodwork strikes, a shot that beat Basil was covered by Jase, who slipped as he swung and managed to thunder the ball against his own crossbar, and then Rollason forced a save that then hit the bar, while Top Dollar Gibbs swung in a low cross that was diverted onto his own post by a Glory Farm defender.




A pitiful half all in all, characterised by miscues and lapses in concentration. By the end of the half, the Reserves had finally countered their opponents formation with Gilo moving into centre mid, but went in an incredibly lucky goal down.




The second half saw a resurgence from Deddington, who attacked as if their lives depended on it at times. Just as frustration began to build, the ball lofted over to Mike Ayckbourn, goalside of two defenders, giving him time to bring it down and fire across the 'keeper.




An onslaught of attacks by Deddington late on was bolstered by Paroussis and later Danny Keys, as the Reserves threw all but the kitchen sink at their opponents. The cretin of a referee made a more than contentious decision as the pressure was about to tell, with Luc Thornton skipping past three ugly lunges, only to be left clean through and denied an advantage. This new caution to the wind policy nearly came unstuck, with Basil Brush pulling off two top drawer saves in the denouement of the match, and a tremendously lucky strike floating against Deddo's crossbar late on.




All in all a fist-pounding affair, but learning of Heyford's demise made the draw a lot more palatable. The Reserves live on!
Saturday 31st January 2009:



Geoff Wilson Cup Semi-Final:





DEDDO RESERVES 3-2 KEA 'A'





Many questions were being asked after the Glory Farm debacle: Were the Reserves strong enough to last the course? Had Heyford United Reserves disrupted their momentum? Could they still win the big games without Si Hall's influence?




The preparations for the big Semi against one of the stronger teams in their division, a team who last week beat top-of-the-league Heyford Utd Reserves, couldn't have been worse, with 3 potential centre halves pulling out, and Danny Keys announcing an improptu 'retirement' before the game. Luckily enough, some last minute wrangling with Steve Flemming led to Andy Gray and Shaggy turning out for the Orange. The biggest game of the season kicked off with a makeshift back four and centre midfield, with Mike Ayckbourn as a holding midfielder, leaving Sam Rollason lining up with Luc Thornton up front.




A decision was made for the team to meet up later, making the warm-up short, focussed and to-the-point, hopefully eliminating the vexing habit of conceding early goals. After the usual dog shit clean-up, the team looked concentrated and fired up, then all Hell broke loose.




From kick off, mere seconds into the game, a hoof forward caught Barney Alton wrong side of the bounce. A second of indecision and poor judgment later, and Alton had criminally underhit a backpass, leaving the KEA attacker to batter his way through and finish well. The unease quickly spread, and Barney, less than a minute later and notably flustered, spread the ball wide to Bliss, who stupidly tried to keep the ball in play with his right foot instead of left. Slipping over and not able to recover, Bliss chased helplessly as a KEA man stole the ball and fired in a cross, which was dispatched despite Basil's best efforts. 2-0 down in 2 minutes, noone knew where to look.




The despondent crowd got the reaction they were looking for, when, within seconds of kicking off, a sublime one-touch passing triangle between Luc, Andy Gray and Sam Rollason ended with a low cross clinically slotted in by Rolo. 2-1 with just 4 minutes played, 3 5ths of the game's goals scored in no time.




This early goal was integral to the pattern of the game, KEA were shaken, and Deddo turned on an immense display, dominating in every area of the pitch, with an extra man free all the time. Some more fantastic passing moves ensued, and Top Dollar Gibbs was found unmarked in the middle of the box with a cracking low cross, but lost his head and blazed well over. The mighty Ressies didn't let this affect their stride though, and when some determined play from Timmy led to Andy Gray feeding a delicious ball down the channel, Sam Rollason whipped a brilliant effort into the corner of the net for the equaliser. Wave after wave of incisive attacks came from the Orange hordes, with Luc Thornton ghosting in from everywhere, and Ayckbourn and Timmy dominating the middle. Another majestic cross found Top Dollar again unmarked at the far post. This time his header agonisingly crashed off the post, but it was a sign of things to come. After a few KEA attacks were dealt with brilliantly by the Shaggy-led defence, Deddo got what they were looking for. Top Dollar was fed on the left wing, held off the pressure superbly, and laid the pass of the season through the eye of a needle, perfectly in that corridor of uncertainty between last man and goalkeeper. Luc Thornton strode through like a man possessed, beating the despairing goalkeeper to the empty net. A masterful first half performance, and the only concern was could the Reserves turn it on again after the break?




Delightfully, the answer was yes. Starting from where they left off, the Reserves mounted more attacks, although when Top Dollar Gibbs missed another decent chance and Luc Thornton blazed over with a lot of goal to aim at, the creeping worry that these misses could come back to haunt them set in somewhat. A slightly comical and agonising moment came when KEA won the ball in midfield and laid the ball through, only for Bliss to win the tackle and simultaneously set Thornton clean through! The linesman's flag was greeted with derision and some suspicion.




Of course you can't dominate a game for 90 minutes, and KEA began to work their way back in an attacking sense, mainly with hopeful launches. Tiredness seemed to set in, and a multitude of corners were, as usual, conceded. A goal-saving block at one corner from Andy Gray, and an awesome Basil reflex save kept the score positive, but at the other end, Top Dollar Gibbs was beating his man and swinging in some stupendous crosses that Deddo should really have made count.




KEA began to embarrass themselves as the second half matured, throwing themselves to the ground with a piercing cry every time a challenge came in, but the defence had their tin hats on, Shaggy like a juggernaut with his endless tackles and clearances. The ponderance of missed chances seemed to come home to roost late on, when a scrambled corner was booted back in onto Mike Ayckbourns hands, although how he could have evaded this is unclear. Still, ANOTHER BLOODY PENALTY conceded. Basil, with a dismal ratio of penalty saves, was rooted for, but yet again went the wrong way. Startingly though, the KEA man rolled the ball 2 yards wide, and Deddington breathed again!




KEA still had some fire in their belly, with some very close shots, and a bar hit following a corner, but the game looked to be sewn up at the other end. Sam Rollason was put through, rounded the 'keeper brilliantly, and fired in a stinging effort, but unbelievably struck the defender on the goal line, missing the chance of his hat trick.




As the game approached its conclusion, the back four were walking wounded, Shaggy injured in a challenge, Cumface cramped up, Bliss with a dead leg and Alton crocked as always. But, like all great teams, they put their bodies on the line, and the final whistle was their reward. A cup final to look forward to, the least they could expect for their superhuman efforts this season, and another semi-final to follow next Saturday.
Saturday 21st February 2009:



FENNY COMPTON RESERVES 2-2 DEDDO RESERVES





After another 3 weeks away from the glorious semi final triumph, it was very much a case of after the Lord Mayor's show as the mighty Reserves lined up against Fenny 'Straight Outta' Compton.




After the humiliating last game of 2007/08, the Reserves certainly had a point to prove. Missing Shaggy but welcoming back Captain Jase Timms, the line-up was only this one player different from the KEA 'A' semi final. The first half was clearly going to prove tricky, as Deddo played in the boggiest half of the pitch, with the wind against them and the sun in their faces.




Importance was attached to a solid start, and not conceding within minutes. Disaster struck in the first minute however, not from a goal, but Barney Alton making a crucial tackle with his wrong foot, crocking his hamstring in the process. The only substitute Josh Paroussis was brought on at right back, with Jack Cumming switched to centre half.




The first half was a patchy affair, with Paroussis linking well down the right, Gibbs and Gray firing in some dangerous crosses and Bliss narrowly clearing the crossbar with a long range effort. Despite some dogged defending in the excuse for an 18 yard box, and a superb one-handed save from Brush, Deddington went behind midway through the half, when a dangerous cross found Cumface flying towards his own goal. Despite a noble attempt to readjust, he planted a fine header past Basil's despairing dive.




Fenny's only decent players were carving out opportunities rather too easily, yet Deddington pulled themselves out of a hole, when Andy Gray and Timmy J. combined down the right, Ringo whipping in a great cross which found the 'keeper wanting, and Luc Thornton with an open goal.




At the break, it was spelt out that much improvement was needed, and, with favourable conditions, the Reserves should control the second half. A vigorous opening led to Luc Thornton and Top Dollar Gibbs firing in some decent efforts. Gibbs sliced wildly with a fantastic chance, a shot that went out for a throw-in. The Fenny Compton goalkeeper made a last-ditch save from an Ayckbourn header, and Deddington nullified the threat from Fenny's better players. It was no surprise when Mike Ayckbourn bustled into the box and finished a chance expertly for 2-1. Unfortunately it was all downhill from that point. Some ill-timed showboating brought only derision when it should have led to a goal from any of 3 waiting players, and when Top Dollar won a tackle on the edge of the box to put himself clean through only to waste the chance, it seemed that the Reserves were blowing their opportunity. A couple of one-on-one stops from Barry, and players were slacking, switching men when there appeared no need, and a poor mistake from Paroussis led to a Fenny Compton through ball just evading Cumface's lunge, as the attacker deftly flicked over the onrushing Basil for their equaliser.




Desperation crept in, and some frantic attacks were countered, with the Reserves clinging on to the only result they deserved after an unacceptable display. Some regrouping and hard questions to answer, after missing the chance to put pressure on Heyford before another cup break.
Saturday 28th February 2009:



DEDDO RESERVES 0-2 ABK SPORTS RESERVES





After a mad dash for players, both teams managed to field a complete team, but the Reserves blew their big chance of two cup finals, and only had themselves to blame.




A fresh-faced young ref was pitched in, and Deddo set about with purpose and passion. The one thing that was clearly lacking was match fitness, not helped by Chris Atherton's farcical handling of fixture scheduling.




A pretty frenetic opening was characterised by two goalmouth scrambles, the first a real belter. ABK got the ball into the box and it somehow found its way through for a shot which was bundled off the goalline, before the rebound fell back to an ABK striker, who forced Basil to tip onto the crossbar, before the follow-up was headed onto the post by Jase Timms!




Deddo soon rang a bell of their own when they forced a goalline clearance and Sam Rollason hit the post. But a couple of glorious chances later, and the Reserves were pushing their luck. ABK capitalised with a huge stroke of luck, when a long centre was slightly misjudged by Shaggy, who got caught under the ball, leaving an ABK striker to miskick the ball against the post and in.




Luc Thornton was pulling the strings in midfield, and his bro was performing admirably on the right wing. Some dangerous crosses from Top Dollar were fluffed, and half-time came at a good time for both teams.




The second half promised so much, but the opening football faded as more glorious chances were missed, Rollason screwing wide, and Bliss with a weak effort at the goalkeeper. When Top Dollar missed a decent chance the writing was on the wall. Even before Basil Brush palmed a corner into his own net, ABK were ruining the game by keeping the ball dead for as long as possible, wasting time and turning the game into anything other than a football match. Some comedy was provided in the closing exchanges, as Shaggy booted a guy in the face, and Jase Timms got away with the most blatant handball you will ever see.




Missed chances have cost the team big time, time will tell if the season is still on track.
Saturday 14th March 2009:



DEDDO RESERVES 1-2 WROXTON SPORTS RESERVES





AAAAAAAAAAAAAAAAAAARRRGHHHHH!!!!





Just when the need for a win was paramount, the Reserves' poor run continued, losing their first home league game of the season with a whimper.




Despite a rabble-rousing pre-match talk and a sharp warm-up, the Reserves didn't start with a high tempo. Although the passing was decent enough, chances were at a premium early on. Profligacy was once again the watchword, as the wingers and strikers appeared to wait for the ball to drop perfectly. Some good moves around the box and a handful of corners were wasted, and midway throught the half a free kick beat Jase Timms' jump and was bundled in by Wroxton.




Plenty more football to be played, but for every decent attack that broke down, Wroxton had the odd counter to threaten. Bliss deflected a certain goal away for a corner and Danny Keys in goal was kept busy throughout.




No lack of spirit from the mighty Oranges, but Wroxton added a second late on in the half, a corner breaking loose, mishit across a throng of lunging defenders and stabbed home from point blank range.




Deddington trooped off dejected, but started the second half purposefully. Some concerted pressure early on led to a corner finding its way to the Brummie feet of Gilo, who smashed in from all of two yards. 2-1 and game on.




And yet the Spartan comeback never materialised. Rollason lost a one-on-one battle, Phil Kirsopp's lack of match fitness saw him drift out of the game, Paroussis couldn't find the spark.




Top Dollar Gibbs made an awesome run that took him past three men and to the edge of the box, but once again the move broke down when it just needed a clinical head.




A devestating blow to the Reserves' chances of winning the Division 3 title, but this time last season a horror show at Finmere was remedied with a 9 game unbeaten run. We know they have the heart, but they need to prove they have the hunger, and most importantly the finishing to stay in this title race.
Saturday 21st March 2009:



DEDDO RESERVES 6-0 BODICOTE SPORTS RESERVES





At last, a semblance of the real Reserve side emerged, on a Spring day bathed in sunshine.




The weather had unfortunately made for a pretty arid playing surface, which drained the players all the more. The mighty Ressies welcomed back their attacking talisman Si Hall, and slotted Keith Laird into the centre of midfield alongside Timmy J. Spencer. Josh 'Link' Paralysis lined up at left back in the absence of Kellogg.




The start was cagey, as to be expected after the recent appalling run of results. Despite this, the approach play early on was impressive, Luc Thornton turning his man constantly, and Timmy J. lively in the middle. Yet again though, chances were scorned, with the attackers struggling to find their range. Early efforts from Luc and Si Hall were mediocre, and Top Dollar Gibbs was looking for the killer ball at the wrong times.




As the half ticked on and tempers frayed, Si Hall hit the post with a header, and Luc went round the goalkeeper, only to have his chance smothered by bodies. Timmy J. zipped through for a one on one and dinked the ball lovingly over the goalkeeper, but the effort didn't quite have enough purchase, and was cleared off the line. Some lovely passing and movement saw Mike intrude into the box and have a chance of a shot. Timmy J. was square but regrettably the pass was behind him and the chance went begging. It seemed a matter of time, and the Orange warriors continued to play neat football, which was rewarded midway through the half, when Luc Thornton brilliantly pervaded the Bodicote defence, beat the last man, and slid a serpentine shot past the goalkeeper and into the bottom corner.




Within a few minutes of this breakthrough, the tension had visibly lifted from the team's shoulders. As the ball found its way into the box, Luc plucked the ball out of the air from behind him a la Bergkamp, and flicked into the net in the same movement. 2-0 at half time, and there was only one team in it.




The second half needed the team to find another gear change, but play was still slack in places. Mike Ayckbourn was struggling to impose himself; Gilo and Josh were switching off in the heat. Shaggy was brought on to beef up the aerial presence at the back, and within a few minutes, while Bliss was in the middle of slating a lacksadaisical section of play, Luc let in Si Hall to dink a perfect lob over the goalkeeper for 3-0.




A sad moment came when Luc twisted with his foot still planted in the ground, ending in a hospital trip diagnosing a fractured ankle. Andy Gray came on up front, and within a few minutes Mike Ayckbourn was given weeks to control the ball on the edge of the box, and crack a half volley into the net. The Bodicote team, boasting 2 of Deddo's 'finest' ex-players; Gibbo and J 'Forrest Gump' T, had gone from offering little to nothing. The majority were clearly shattered, and Deddo's movement was close to taking the mickey at times. A litany of presentable chances passed them by as Deddington tried to walk the ball in. A deep cross was cushioned back by Ayckbourn for Gray to thump a header in for 5-0.




Sam Rollason was the last sub, brought on for a flagging Top Dollar on the right wing, in order to give Rolo more possession and a different position to bear down on goal from. This bore fruit late on. After a scuffed range-finder, Sam finished with style, after a lovely passing movement left Andy Gray in the box to lay the ball back.




The closing minutes were a bit of a mess discipline-wise, and Keith Laird unbelievably didn't put Bliss in for a one on one, choosing instead a lousy shot! lol.




Hopefully the confidence from this result will carry through to the final, but discipline and attitude need to be several notches higher.





GET WELL SOON LT!!
DEDDO RESERVES BRING HOME THE BACON



Your mighty mighty Reserve team have won a titanic Geoff Wilson Cup Final shootout to take home the trophy! But of course, most of you know that, as we had the most awesome partisan crowd keeping everyone entertained with a combination of songs, chanting and hilariously abusive banter with the opposition crowd.





Twas a night to live long in the memory. A fantastic collage of faces and characters all gathered in the same place, generating the most resplendent atmosphere, crackling with the buzz of tribal passion.





As the winning penalty hit the net, the deluge of fans and players was a sight to behold. It was a privilege to be a part of a legendary night in Deddington Reserves' history. I have played in 3 cup finals before, but never before have we garnered such a plethora of devoted supporters. So thank you to all of you from the bottom of my heart, it was one of the most memorable nights of my life.





And a mahoosive thank you to my legendary co-manager Timmy J., who scored the winning penalty and thus erased the memory of my horrendous miss!!





Saturday 28th March 2009:





DEDDO RESERVES 2-2 ABK SPORTS RESERVES




After Extra Time - Deddington win 5-4 on sudden death penalties!!





Line-up:




Goalkeeper: Big Bad Basil Brush




Right Back: CumCum




Left Back: Moi




Centre Back: Captain Jase




Centre Back: Shaggy




Right Wing: Top Dollar




Left Wing: Si Hall




Centre Mid: Rambo




Centre Mid: Timmy J.




Target Man: Sperm Whale




Centre Forward: Anders





Supporting cast of thousands, well at least 50!





This night of glory's beginnings were modest. The mighty Reserves kicked off against the slope and wind, and found it tough going. ABK were resolute whenever Deddington approached the box, and even Si Hall struggled after being doubled up on. ABK's counters down the slope caused a few problems, with the back four finding it hard to judge bounces, although Cumface and Bliss kept crosses to a minimum, while aerial balls were meat and drink to Jase and Shaggy. Basil was finding goalkicks tough to control, and corners were conceded a bit too regularly. About a third of the way through the half, one of these was scrambled away, only to find it's way back to an ABK striker on the edge of the 18, who fired past Bliss into the corner of the net.




Deddo had Terminator to thank for pulling off a superb save to prevent a second, but meanwhile the Orange waves were making territorial inroads. Mike Ayckbourn and Si Hall were crowded out in the box, but a corner late in the half fell awkwardly to Si Hall, who battered the ball against the post on the volley, which then hit a defender and rolled into the net. Deddo experienced a bizarre piece of fortune when the inept linesman (one of our favourite officials) gave a ludicrous free kick against Ringo, who was being fouled. The free kick was delivered onto the head of Shaggy and into his own net. Even more strangely, the official then ruled it out for offside!




The team talk at half time centred on the fact that Deddo had weathered the hardest conditions and came out drawing. The second half was theirs for the taking. But of course being Deddington Reserves, they made it as hard as possible for themselves.




Lairdy and Ringo began to lose impetus in the centre, and Si and Andy were feeding on scraps. After a couple of cock-ups, Bliss redeemed himself with a headed goalline clearance, whilst Basil pulled off another stunning save to his left later on.




The fans were entertaining everyone, with renditions of 'They're here, they're there, they're every f**king where, ABK', 'Deddy til i die', even pulling out some old classics like 'Its all gone quiet over there' and 'You're not singing anymore'.




After some hairy moments, Deddington worked some great openings. Timmy J. found a niche on the edge of the box, but sliced his shot almost out for a throw! Si Hall nipped in for what seemed like a certain goal, before an ABK man dived in to block his first effort, with the second effort going agonisingly wide. Violence seemed to be on the cards when Si practically rugby-tackled his marker on the left touchline, but it was all macho posturing and empty death threats.




At the other end, a top-corner-bound effort was met with every inch of Basil's frame, as he amazingly tipped it over from just under the crossbar like some kind of amateur Yashin.




A tiring Top Dollar was taken off for Danny Keys on the right, who got to work immediately. Si Hall was switched with Andy Gray, who then worked his nuts off on the left wing, whilst another fantastic chance fell to Hall for a one on one, his deft lob just clearing the bar, while Keith also shaved the bar. This epic battle seemed destined for extra time, and so it proved.





Despite limbs rapidly seizing up and energy reserves running on fumes, the Orange wave set out for more. Unfortunately, the tiredness betrayed the back four against the slope, with a nice ABK break leading to a lovely finish past Barry Bear's despairing dive. The rest of the half was tin hat time, as Deddo regrouped and the ABK fans taunted.




But this team is nothing if not throbbing with character, and sure enough ABK retreated in the second period, being undone when a corner move eventually led to Si Hall blocked out, with the ball spinning clear just outside the six yard box. Suddenly, an Orange figure galloped through like the General of a Cavalry Charge - none other than Cumface! The whole ground held its breath, as an eternity seemed to pass before he of the cool head slotted perfectly into the bottom corner for a deserved equaliser.




Both teams were finished; there was nothing left in the tank. Play was fractured until the final whistle called to an end the most absorbing of finals.





Penalty Shootout:





1) ABK score.




1) Keith Laird confidently belts into bottom left corner.




2) ABK score.




2) Bliss rinses the goalkeeper, but fires an inch wide of the post!!




3) ABK blaze over the crossbar! Bliss heaves a huge sigh of relief!




3) Shaggy thunders the ball in, just left of centre.




4) ABK score.




4) Si Hall slots home effortlessly.




5) ABK score, with Barry getting a foot to it but not quite keeping it out.




5) Mike Ayckbourn dispatches to left confidently.




6) ABK perform an almost carbon copy of their last miss!




6) Timmy J. thrashes the ball into the left hand side of the net, before being buried 'neath an avalanche of supporters and players!





A bizarre penalty shootout, with no goalkeeper making a save, and all Deddington penalties going the same side of the goalkeeper!





VICTORY!!!!!!! Savour the flavour...
Saturday 4th April 2009:



DEDDO RESERVES 5-0 GLORY FARM RESERVES





Never before has a 5-0 win so flattered the losing team. Any fans worried that the Reserves would let the Geoff Wilson Cup final victory go to their heads were reassured and then some, with a five star display of inventive passing football.




The first five minutes were a bit of a mess, but then it was to be expected when the defence were so patched up. Cumface and Bliss were again full-backs, but with both Jase and Shaggy feeling knocks, the starting centre backs were Gilo and Paul 'that time it hurt, next time you're a paraplegic' Franklin.




Some supporters had to rub their eyes when an early goal came for, not against Deddington. A ball forward made its way into the box and was only half-cleared. As it bounced awkwardly, any amateur player worth his salt would have had a scrappy punt at a shot, but Si Hall managed to kill the ball with his studs, snake past two defenders like they were made of cardboard, and dispatch a sublime finish into the corner of the net. Within no time, Timmy J. had slid the ball invitingly through to Top Dollar Gibbs, who arced an awesome cross to the back post, where none other than Si Hall planted a perfect header back across goal for 2-0.




The movement and invention were too much for Glory Farm to handle. Myriad chances were created, one of the best when Top Dollar fired a shot into the side netting. The gulf between the teams was a thing to behold, and there was only frustration at half-time that Deddo hadn't buried Glory Farm under an avalanche of goals although in one of the few Glory Farm raids, Cumface covered Gilo's missed header with a blinding tackle in the same movement as his attempted header. The worry for the second half was obviously that the performance would diminish, but this proved emphatically not to be the case, with the Orange army taking up where they left off. A gorgeous display of serpentine passing and movements between Andy Gray, Top Dollar, Timmy J. and Lairdy led to Mike Ayckbourn opening up and whipping a shot too high. An early second-half corner saw Mike flick the ball on for Bliss to control and fire a snap-shot from point blank range, which was instinctively deflected away by the goalkeeper.




It seemed merely a matter of time, and soon enough, a cross found Si Hall in a crowded penalty area. His first time effort was saved, but the rebound was brilliantly turned home despite the presence of a goalkeeper and a man on each post!




Glory Farm played into the Reserves hands with their weak tactics, with apparently one up front offering little movement. Top Dollar nearly coined a brilliant run but fired narrowly wide.




Josh 'Link' Paroussis was thrown on for Top Dollar, and Phil Kirsopp for Andy Gray in a double substitution just after the hour mark. Straight away Josh threw himself into challenges and was on the end of some hefty 'tackles'. One thing Glory Farm were definitely adept at was cynical fouling, with a couple of their larger players literally throwing their weight around, while treading on feet and shirt-pulling was prolific.




Link made his first big impact when Si Hall worked a fantastic cross, which Phil air-kicked, before it found Josh at the far post, who drilled a sweet half-volley back across the goalkeeper for 4-0. The crowd went berserk, and Link brought the house down a few minutes later, with a Si Hall-esque piece of skill, superbly beating his man on the touchline to break into the box, before slaloming around the goalkeeper and last man, who nearly tackled him. Being Josh, he went from nearly falling over to keeping his head and finishing like a pro with his left foot. Link was the hero, and deserved his plaudits, the only sour point being that he couldn't quite notch a hat-trick, with the goalkeeper saving his instinctive effort, almost fumbling it in in the process. Phil forced a decent save and the moves kept on coming, with defenders joining in as much as the midfield. Bliss took a ball off of Franklin's head and headed miles wide, but it was a measure of the whole team's confidence. Ayckbourn nodded a presentable cross just wide late on, and it was a masterclass in how to completely obliterate a team, apart from the small fact that it should have been closer to 20
Tuesday 7th April 2009:



ABK SPORTS RESERVES 2-1 DEDDO RESERVES





Heyford United Reserves rubbed their hands together at this fixture, relaxing while ABK and Deddington are forced into midweek action when noone is motivated or available. So Deddington played this joke fixture at the joke venue of Easington wreck with their entire defence missing.




I would struggle to put into words quite how bad this game was, with the Reserves looking to come out of the fixture with any kind of result to concentrate on fixtures where they would have their best eleven available.




ABK relished the long-ball hunting for scraps 'football' that Easington wreck always encourages, while Deddo were the epitome of frustration at the ball never arriving below knee height.




Timmy J. was clearly uncomfortable at full back, whilst Josh's attacking abilities were also essentially neutered at left back. Hovis was forced to play 90 minutes in centre mid, about 30 minutes too long.




ABK took the lead when Timmy was left with 2 men, chose the wrong man, and his scufftastic effort skewed under Basil.




The second half was full of hope that Deddo could potentially snatch a draw, and when Top Dollar bagged a goal to level the scores, optimism once again reigned over logic. His crosses were always lethal and it seemed as if the Reserves might even hope for more, but this was crushed, after waves of clubbed clearances to 'Paddy' for ABK wore down the Orange resistance. Even another star show from Franklin couldn't prevent a rare moment of the ball being brought under control for ABK to steer in a second.




Rather than spur them on, this seemed to send Deddington into a tailspin of despond. Danny Keys pulled off a stunning goalline clearance from a corner, scissor-kicking the ball onto the underside of the bar and away, while ABK proceeded to thud the crossbar from just outside the box.




A late double-substitution of Dan Hall and Phil Kirsopp could not turn the tide, and Deddington were resigned to a third league defeat. Make no mistake, if this was played at Drayton School on a Saturday, Deddington would have won.




Thank you Chris Atherton, but the Reserves have got the character to win all of their remaining games, and that is exactly what is required if the title is still desired.
Saturday 11th April 2009:



DEDDO RESERVES 6-0 KINGS SUTTON RESERVES





With no room for error now, the Reserves kicked off knowing 7 wins would land them the title. Kings Sutton had been a perplexing proposition as of late, winning 8 league games on the spin, yet they were one of the worst teams we'd ever played back in the early rounds of the cup. This was a team who earlier in the season had conspired to win 13-0 one week, then lose 12-1 the next! Understandably then there was some trepidation before the game, and from kick off the game seemed to be in the balance: they were clearly better than the 7-1 pasting Deddo dished out in the cup, but would the real Reserves stand up to be counted?




Early signs were mixed, with clear chances not exactly abundant as Deddo kicked towards their least favourite end, the cemetery end. Top Dollar fired a very presentable chance tamely wide, and a good chance for Link, playing up front, was spurned, although the most curious couple of misses came from the usually irrepressible Si Hall, the first when he brought the ball down superbly and held off his last man before steadying himself and blazing over, one one one. The second was all created by his close control and beating defenders all over the place, leaving himself on the left hand post with the 'keeper and whole goal to aim at. With his weaker foot, he skewed dramatically wide. This led to Kings Sutton laughing amongst themselves, with 'Soley' taunting particularly viciously, which of course was hilarious when Si again got himself in the clear from a very similar position on his right foot again, this time opening himself up to slide in perfectly via the right hand post late in the half.




This eased the mass frustration and questioning of the always brilliant referee invading Deddo's play. A few more breaks threatened, but it was 1-0 at half time.




Half time saw an unwell Timmy J. take himself off for Grass-Stain, back with a heavily strapped knee. He tore into the game in the second period, and 'Soley' was majestic in his anonymity, as the back four of Cumface, Bliss, Jase and Franklin had him in their pockets.




After Si was put clean through early on, he finished perfectly for 2-0, and the game was effectively over. A Garstin corner was floated to the back post soon after, where it dropped for Mike Ayckbourn to nod into the top corner.




Deddington Oranges were soon swarming all over the demoralised red and blacks, and Si Hall broke into the box yet again, before being scissor-tackled and body-slammed to the floor. He rather amusingly then chucked the ball into the net, which led to the embarrassing spectacle of Kings Sutton players thinking they actually had a legitimate case for denying the penalty and getting Si booked! After the comical tirades had run out of steam, Si stepped up to plant the ball into the net with surgical precision.




With the game clearly won, and more goals desired, Deddington threw on Sam Rollason for Josh, who made his mark almost immediately, stabbing in a brilliant low cross from Si Hall. As the game approached its conclusion, Si Hall was given a rest, with Gilo filling his boots on the left. Rolo was getting involved constantly, and ran onto a great through ball before working his way into a great crossing position, firing the ball low across goal, where Federico Gileda poked the ball in like a true poacher.




6-0 and could have been more, its funny the difference a pitch that encourages good football makes.
Tuesday 14th April 2009:



DRAYTON VILLAGE RESERVES 3-5 DEDDO RESERVES





The game before the game that would decide the destiny of the Division Three title, and one of the worst teams in the league to boot. Deddington had scored 14 in the previous 2 games against Drayton, and perhaps there was an air of complacency surrounding this fixture, despite the Reserves struggling away from home recently. Danny Keys had to fill Basil Brush's gloves in goal, and it was a far stronger line-up than the last midweek fixture against ABK.




As the game kicked off it was clear that Drayton had cleared out some deadwood - the average age of their team had been slashed by about a decade. Their strikers made life a little bit more tricky than expected by moving around constantly, and this was not the game the Oranges were expecting.




Within the first ten minutes, a loose ball was pounced on by Bliss and challenged by Drayton's number 8. With a face only a mother could love, the moronic cretin sunk his full weight, via his studs, into the base of Bliss' ankle. The slight give prevented Bliss being carted out in an ambulance, and the number 8 prevented himself being carted off in one by staying clear of Bliss for the rest of the game. This clearly put Bliss off his game, with a few misjudgments leading to chances. When a bad bounce beat Bliss and Timms, the Drayton forward leathered the ball first time over Keys' head for the opener.




A shit clearance from Cumface was compounded by an even shitter clearance from Bliss, the two duking it out with a war of words a Year 6 would be ashamed of. Deddington were in danger of all losing their heads, and after Andy Gray and Mike Ayckbourn spurned decent chances you could hear the frustrations vented all over the pitch. Luckily this was remedied late in the half when Top Dollar charged through unattended, lobbing the ball deftly over the goalkeeper for the equaliser.




The rest of the half saw chances at both ends, Drayton skewing their efforts wide, whilst a piledriver from the left boot of Andy Gray was tipped away by the goalkeeper. And so it was a tense Deddington team who huddled at the break, trying to concentrate minds and apply some serious quality.




The second half began well. Within minutes a hard-earned corner was swung to Si Hall, whose header was partially blocked, only for Anders to steam in and nod over the line like a bulldozer. The Reserves upped their performance levels in earnest, and soon took control. Some lovely work from Timmy J. worked the ball to Mike Ayckbourn, who flicked to Si Hall on the edge of the box. Drayton criminally gave him room to turn, repenting at their leisure after he spun past 2 defenders and fired into the bottom corner of the net.




Unfortunately the jitters at the back had not ended. A long throw found Deddo wanting, with the ball flicked over everyone for a Drayton player to crash in a volley at the back post.




So a regrouping later, and Deddington extended their lead once more, a lofted ball through to Hall clinically dispatched over the goalkeeper's head. The fifth goal encapsulated what the Reserves are all about, with Bliss and Hall busting a gut to keep a lost cause in play right on the touchline, leading to a superb run and finish, another Hall hat-trick and 5-2 to the mighty Reserves. Josh Paroussis had come on by this time and nearly found a way through, while after the 5th goal, Grass-Stain and Si Hall were replaced with Rolo and Hovis. A Drayton attack wasn't cleared properly late on, and the cross wasn't closed down in time, sailing onto the head of an attacker who planted it in brilliantly for 5-3.




A draining match, but Deddo come through unscathed for Judgment Day, this Saturday. Dum Dum Dum-da-Dum!
Saturday 18th April 2009:



DEDDO RESERVES 8-2 HEYFORD UNITED RESERVES





IT'S ALL GONE QUIET OVER THERE!!





Well well well, after the fixture Secretary and Ivan Green had conspired to keep Heyford top for almost the entire season, Deddington just bade their time, laying in wait for the opportunity to settle a few scores after being cheated out of the away fixture with a highly dubious penalty, and this was their chance. Any more questions?




From kick off it was clear the Reserves were hungry for blood. Tactically, Keith Laird was deployed in the centre of midfield to nullify the threat of Mark Furness, while Si Hall was positioned up front, with Anders and Top Dollar manning the wings.




Early on, problems were caused by a lack of cover on the left hand side, but this was remedied before any damage was done, and even a rare panicky moment from Paul Franklin of all people was cleared up by the Orange army. Play was pretty balanced until the vital breakthrough, just over a third of the way into the half. Heyford arrogantly took their time deep into their half, leading to an insouciant back-pass. Suddenly, like a Ferrari cruising past your blind spot, Timmy J. belted into the picture, and stabbed the ball off of the goalkeeper's toes. As the ball rolled brilliantly slowly into the empty net, the crowd exploded, and a roar of triumph hit Heyford like a taunting tsunami. They had clearly not been expecting this.




Within minutes, some good work from Top Dollar led to Si Hall doing what he does best; murdering the defence and sliding into the bottom corner, before volleying another effort into the top corner for 3-0. Heyford did not know what had hit them. Timmy J. was running the show like the Energizer bunny; all over Mark Furness like herpes. Nothing threatened but the odd long ball, which Franklin and Jase pissed all over. Everyone was an idiot according to Heyford's diminutive number nine, and it got worse for the 'league leaders'. A cross from Cumface led to Anders setting up Si Hall for a quickfire, and majestic fourth hat-trick in three games.




There was still time in the half for a horrendous miscue from Mike Ayckbourn and numerous blocks from a battered Heyford team. Almost the perfect half led to Deddo trooping off 4-0 up against their league title rivals, and the question was could there be more humiliation served up in the second period? After all, Deddo had eased into this unassailable lead shooting at the cemetery end, traditionally their least profitable half.




As the second half kicked off, Heyford had predictably had a rocket up their arses, and showed some spirit early on, striking the post minutes before scoring. Jase Timms won a great tackle but ran too far into choppy waters. When the ball was returned into Deddo's area, the striker worked some room and fired in a low shot on target, whilst the less said of Basil's attempt at a save, the better.




Like throwing a rock at a beehive, this made the mighty Reserves angry, and within no time, Si Hall had bent the ball into the top corner again to make it 5-1. At this stage, goal difference had become a crucial factor, as Deddington would most likely finish level on points if they win all of their remaining games, so the attacks kept on coming. At the other end, Bliss smothered a potential one-on-one, while Basil kept the Heyford attack at arm's length. Unfortunately, Ivan the Terrible seemed to decide this half he would prove how much he loathes Deddington, not so much making wrong decisions as making up decisions from nowhere, a great example being a corner awarded to Heyford for a clear throw-in, and numerous goal-kicks given for Deddington corners. We might have won, but this kind of clear cheating has no place in a proper game. A bad ref might be better than no ref, but we would have got less bias if one of their players had reffed the game.




No mind, by the time Si Hall had pirouetted and Cruyff-turned around Heyford's backline, making it 6-1, the game was well and truly over, no matter what Ivan wanted. Deddington were relentless still, not giving an inch to Heyford's backline. Si Hall yet again had their blood twisted, slaloming inside and out, being scythed down ruthlessly, but poking the ball in brilliantly as he hit the deck. Of course, Ivan pretended he had already blown for a penalty, but his prayers were not answered, as Si planted the ball in his favourite corner for his double hat-trick.




Danny Keys and Gaystain came on, Danny winding everyone up like a charm, and Gaystain notching himself, after Si had beat everyone and left him the shot on a plate. Unfortunately, a dubious free-kick bamboozled Barry Bear and bounced straight in, but even this could not sour the flavour of victory, and utter humiliation for cocky Heyford. Link came on with a few left, but unfortunately did not fall over or score. This was a clear message, but the hardest test is yet to come. We can but hope that this resounding win becomes a springboard for the ultimate glory. KEA A may have something to say about that though.
Tuesday 21st April 2009:



KEA 'A' 1-2 DEDDO RESERVES





In the hardest league match left in the programme, the Reserves had to have their strongest line-up and hope it would be enough.




And yet it seemed as if the fates were conspiring against them, when Basil Brush decided he couldn't make kick off, along with Captain Jase Timms. This left the Reserves with the astonishing handicap of perhaps the smallest defence in history, featuring Josh and Franklin, then scaling down further with Cumface, Bliss, and to top it off Danny Keys in goal! As luck would have it, KEA A appeared not to be a huge side themselves, and long balls were not their primary weapon, although the Reserves were in no doubt: this game was going to be physical, and it was going to be ugly.




As if using their deficiencies as an inspiration, the Reserves repeated Saturday's feat, with an almost flawless first half. Attackers were given no time on the ball, midfield were harried, and the KEA A defence didn't know what had hit them. A surge of attacks from either wing and midfield culminated in a goal about a half hour in, with who else but Si Hall taking an awkward bouncing ball on the half volley from the 'D', arrowing it into the roof of the net. The Orange approach play was mesmeric at times, with the back four combining brilliantly with the midfield. Top Dollar delivered a couple of devious crosses which yielded no goals, but corner after corner was won, and Deddington came off having thoroughly dominated the game.




Basil and Jase had by this time arrived, and the Bear came on to ease the lobbing threat. The second half predictably proved far more taxing. Both full-backs were caught short once or twice, but still the counter was potent, with Si Hall missing a couple of chances we might have expected him to bury in his current form.




Just as predictably, the ugly challenges flew in from KEA A, leaving studs up constantly and clattering through poor Josh, leading to a booking and a dead leg. Jase came on, with Cumface switching to right back, and Bliss to left back. Timmy J. had a good run obliterated with another crude attempt at a challenge, and another booking was dished out for a cretin leaving his studs up when Bliss cleared.




The defining point in the game came when KEA A broke free down the left wing. The Deddo defence squeezed out his options, and he unleashed a very tame effort which bounced a foot wide. Unfortunately, some chavvy brats were sat laughably close to the touchline, and one punted the ball back into play, where it spun back into the net. The referee indicated a goal, and all Hell broke loose. Luckily for the Reserves, and the spirit of fair play, the man in black saw sense and spoke to the linesman, one Danny Keys, who filled him in, and Deddo used this let-off to dominate proceedings once more. Finally it paid off when Si Hall weaved into the box, riding challenges from two defenders and shaping for a one-on-one finish, only to change his mind and round the 'keeper, with some difficulty, and finish perfectly.




Of course there comes a time when fatigue kicks in, and KEA A were obviously going to show some threat. After the highlight of a rogue clearance knocking tiles off of a nearby house, KEA fashioned a great chance with a lofted ball through the middle. Barry flew out and was beaten to the punch, but Bliss was covering and watched the ball wide. Basil was called upon again minutes later and responded with a courageous save at the feet of an onrushing KEA striker.




The nerves were seriously jangling after another goalmouth scramble, when the ball broke for KEA to thunder it against the crossbar, but Deddo held out until the dying minutes, when a half-clearance was thrashed into the top corner from outside the box for a superb goal.




The ref seemed to add on an insane amount of injury time, and there was still time for a dangerous free kick, which the Reserves dealt with consummately.




The Orange army had come away with a priceless victory in the title charge, with the glow of satisfaction even brighter amid the hordes of sullen Heyford United witnesses!
Saturday 25th April 2009:



DEDDO RESERVES 3-2 KEA 'A'





Fortune favours the brave, they say, and the Reserves certainly enjoyed a bit of copulation with Lady Luck in this game. 30 seconds from title oblivion, it all changed in the blink of an eye to keep those mighty warriors on course for an unprecedented double.




After two outstanding performances in the big games, perhaps complacency set in, but then the Reserves never make life easy for themselves. Kicking towards the usual cemetery end, the start was far from strong. Si Hall was mindful of a tight hamstring, and there was an immediate problem in the opposition formation, with Bliss essentially having to mark two men to leave Top Dollar free to cause havoc.




Very little cohesive football was played in the opening period, and KEA were always threatening, more from their scandalous studs-up challenges than good play. KEA's shaven-headed left-winger, the oh so trite wannabe hard man, clearly stamped on Cumface's ankle two weeks after the ball had gone, and yet the referee seemed unable to clamp down on this reckless thuggishness. This presented a ludicrous dilemma, in which one or two Reserves were pulling out of tackles for fear of their own safety. If the ref won't punish it, then what chance have you got for a good game?




Despite KEA being on top territorially, Deddington took the lead deep into the half. A terrible Gaystain cross was cleared back to him, and he responded with a brilliantly dangerous low cross, miscued by Andy Gray and bundled in by Si Hall.




The odd goalmouth scramble was dealt with by Deddington, and they came in with a completely undeserved lead. The hope was obviously that kicking with the wind into their favourite half would inspire a resurgence, but it went downhill rapidly. A complete communication breakdown between Top Dollar and Bliss led to a free header putting in a KEA striker, who finished consummately one-on-one.




This setback wasn't disastrous, as the Reserves surely knew they would have needed more than a goal lead, but their play grew ever more fractured, Jase's kicking was strangely poor, and there seemed to be no urgency at all. After the hour mark this came home to roost, when a free kick just outside the box was dispatched past Jase Tustain's despairing hand for a 2-1 KEA lead.




Arguments and desperation pervaded the team, with urgency now injected. Si Hall was being brilliantly marshalled by the veteran KEA centre half, while Gray and Gibbs were breaking to no avail. The game ticked on, and finally a KEA player was carded, for throwing the ball away of all things. Every 50-50 seemed to go KEA's way, and Deddo could see the dream dying, until Top Dollar went on the rampage, cutting outside his man to work some room just inside the box, before belting it into the roof of the net via the crossbar.




This was what the team, and crowd needed. With 15 minutes to go, Oranges swarmed forward like angry locusts. Link and Leonard were deployed on either wing, and chance after chance was created, often the final ball letting the team down. Destiny seemed to present itself when Top Dollar broke clear down the right flank, and was left with two men in the middle to square to, agonisingly clipping the ball in the air when it needed to be fed aong the ground. Cumface came within a hair's breadth of redemption, but it wasn't to be.




Obviously KEA launched quick counters whenever possible, but Timmy J., dropping back to centre half as he was carrying a knock, carried on where he left off in midfield, winning everything, and even nearly started a fight!




The final couple of minutes in this latest epic story of Deddington's season seemed to signal the end for title aspirations, and yet Deddington were not done, throwing the kitchen sink at KEA. Jase Tustain bounded forward for a late free-kick, and havoc was wrought in a penalty area packed with bodies. Yet another ridiculous excuse for a challenge went in on Garstin, leaving him with a twelve-inch stud scar on his back, and finally, joyfully, the referee was strong, and pointed to the spot just as all hope was lost.




KEA predictably exploded, but nevertheless Si Hall coaxed it in with insane delicacy, to rapturous applause. The final whistle climaxed the game without another kick, leading to wild celebrations, and one of KEA's ever-so-grown-up players snapping a Deddington corner flag. What drama! What passion! What a team!
Tuesday 28th April 2009:



KINGS SUTTON RESERVES 4-5 DEDDO RESERVES





Hard to believe, but Deddington made this game an even closer call than the preceding one. 2-0, then 4-2 down, these troops NEVER know when they are beaten. It is almost as if they need to make each match a spectacle and a half; give themselves a mountain to climb, only to reach the summit just as their oxygen runs out!




Deddo kicked off knowing that they had negotiated the brutal assaults of KEA 'A' home and away, and had two final away games to win if they were to take the league crown.




Despite the morale-boosting recent form and narrow escape, the Reserves kicked off like strangers. Every player bar Simon Hall was diabolical from 1st to 45th minute. By the time they had blinked, they were two goals down, a break down the left flank beating Cumface, and the shot beating Barry at his near post. Mere minutes, and a litany of miskicks and cock-ups later, it was 2, the Sutton forward squeezing between centre-backs and rounding Barry with consummate ease.




Arguments exploded everywhere, the most amusing when Timmy J. tripped old boy Ollie Byne in retaliation, and 'Soley' gnashed his teeth and shook like a very angry potato. Luckily Deddo always had the quality of Si Hall to rely on, and when he twisted and turned in the box to create the chance for a shot, the goalkeeper flapped. Mike Ayckbourn stormed through like a man on a mission, and blasted in the loose ball from a couple of yards out.




A few minutes later Deddo had used this momentum to equalise. A deep cross was nodded back into the centre where Si Hall buried it.




Instead of calming the play down, Deddington seemed to regress, as if they needed a bigger challenge. When a Kings Sutton cross broke luckily to 'Soley' on the edge of the 18, he just needed a yard to volley it over Barry. Despite this setback, Deddington were confident, but Joe Fennel decided to make himself the star with a joke penalty decision late in the half, the Kings Sutton man clearly tripping over his own feet but gleefully accepting the gift. 4-2 and the Reserves were looking beaten. The vital component in the game was getting a goal back before half-time, which Deddo duly did; Si Hall diligently persevering under pressure to bag another goal.




At half-time, Mike Ayckbourn got his roasting spot-on for once, and fortunately for the fans, the performance second-half was superhuman.




Barry, Jase, Cumface and Franklin got their acts together, and Danny worked his way into the game. Garstin quickly had to go off with injury, replaced by Josh, who went up top, with Mike dropping into midfield. The Orange waves started to dominate, and it was the perfect riposte from Deddington, although it seemed as if the Gods were against them when Top Dollar rapidly came off too, and Timmy J. aggravated a rib injury in a crunching challenge. It was the walking wounded, but still the belief was apparent. Josh wasted a great volleyed chance, and Si Hall was tackled just as he was pulling the trigger. The hour mark passed, and still 4-3 to Kings Sutton, whose only threat now seemed to be long balls to 'Soley' and his partner in crime. Jase Timms won every duel with the angry little bugger, while Franklin was Superman as ever. Mike had shored up the midfield, and even with ten men the Reserves finally equalised, a corner drifting out to Si Hall, who nodded it in at the back post for yet another hat-trick. The race was on!




With 15 minutes left, and half the team dead on its feet, this was a matter of character and resilience. Josh moved out to the left wing when Rollason came on for Top Dollar, and was running the Kings Sutton defence ragged. A one-two with Si Hall nearly cut through, and a crocked Timmy J. had taken up his post again, sitting in front of the back four. Everything seemed to be going wrong when even Franklin took a knock.




Mike Ayckbourn of all people ordered him forward while he dropped back for the last 5 minutes. After an early chance, Franklin wrote his name once again into the annals of Reserve folklore, marauding forward and beating two men on his way into the box. Just as the whole team and crowd was on its feet, he applied the finish of a predator, wrongfooting the goalkeeper brilliantly for the supreme comeback. All hands to the pump for the final couple of minutes, and Moonpig was battered at full time with back-slaps!
Thursday 30th April 2009:

FINMERE 1-11 (ELEVEN) DEDDO RESERVES

After the many thrilling and devestating chapters in Deddington Reserves' '08/'09 story, those Orange Gods finished the season in the finest style, cracking in double figures for the first time on their way to obliterating a sorry Finmere side.
With a sizeable away support and a strong line-up, the Reserves started the game knowing that all that was required was a win, to take the league title on goal difference.
From kick off the Reserves played up to their fans, and within five minutes they had taken the lead, the ball lifted over to the back post where Si Hall nodded it over the line from just under the crossbar.
A couple of minutes later and Link also nodded a cross in for 2-0, and before fifteen minutes had elapsed Emmanuel Acky-by-ourn battered one in from close range.
The Reserves were absolutely cruising, and there was yet more to entertain the fans, when they were treated to the worst corner in the history of the world, the Joshua Tree managing to hit the Joshua trees behind the goal!
Top Dollar Gibbs knew before the game that he was a hat-trick away from winning his £20 bet with co-manager Aaron, and tore into Finmere early on, adding to a couple of superb crosses with a cracking drive across the goalkeeper for 4-0.
Si Hall was having a field day, and added his second before half time. At the other end, the defence hadn't put a foot wrong, John Flemming and Timmy J. Spencer were like conductors leading an Orange orchestra, while Jawsh and Top Dollar were adding the element of the unexpected. It was no surprise that they jogged off 5-0 up at half-time, and everyone was looking forward to an enjoyable concluding 45 of the season.
Jawsh added more comedy gold with a pitiful attempt at a 'robot' dance, whilst Top Dollar continued where he left off with a brilliant finish for his second, leaving Bliss sweating! Si Hall added another awesome finish for his hat-trick, leaving him just shy of 60 goals for the season, and when Josh was put clean through by Ayckbourn, he slid the ball under the 'keeper for his brace.
Deddo were playing lovely football from back to front, and a deluge of chances came their way. When Josh found himself through again and was scythed down, Timmy J. and Aaron immediately gave the penalty chance to the Captain Fantastic, retiring a double winner. Unfortunately for Jase, his kick, under the bar this time (!), was pushed away, and rolled out before Bliss could follow it in. This was not the only sour moment for Bliss, because Top Dollar found fuel in the tank to burst forward again, and under pressure buried the chance with his left peg for his hat-trick, winning the bet at the last hurdle!
Gaystain, Rolo and Kellogg took their positions in the last hurrah, but Barry Timms ruined an otherwise great day for the defence, giving a terrible sympathy penalty when a Finmere player backed into Bliss, then bizarrely collapsed before a challenge was made! Despite two goalline clearances, Bliss was notably pissed off at this miscarriage of justice. Basil Brush continued his incredibly bad penalty record, failing to save for the 13th time out of 14 previous penalties!
This didn't dent the team's morale at all though, and Sam Rollason galloped through late on to add finesse to the victory, ringing up the double figures with a nice one-on-one finish. There was still time for an ever-present troop in the Bliss-Spencer reign to score and give their tenure a rounded gloss, when Kellogg burst through down the left and fed the chance smoothly under the goalkeeper, a great finish from a great servant.
A magnificent and fitting end to this glorious season, for a group of players which may never be matched in the Reserves' history. Hail to the Kings.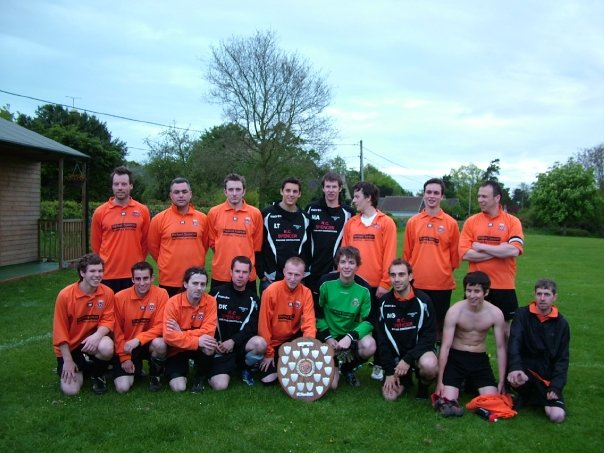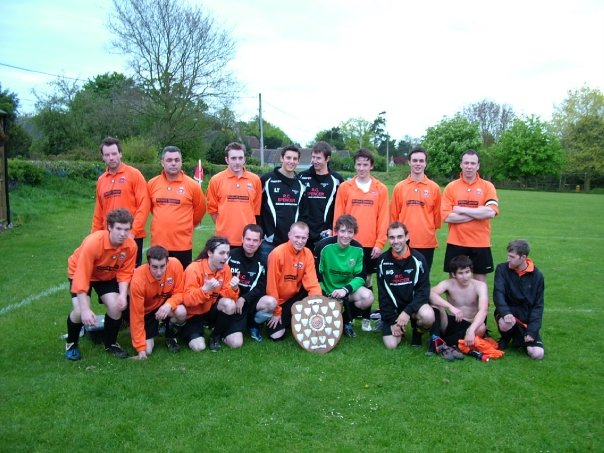 SQUAD GOALS TALLY (all comps):
Simon Hall: 52 (6 penalties)
Matty Gibbs: 15
Sam Rollason: 13
Luc Thornton: 12
Mike Ayckbourn: 10
Josh Paroussis: 4
Tim Spencer: 3
Matt Giles: 3
Matt Garstin: 3
Jack Cumming: 2
Kevin Tustain: 2
Danny Keys: 2
Andy Gray: 2
Pete Hovard: 1
Paul Franklin: 1
Own goals: 1
Interesting facts:
The Reserves scored a total of 126 goals on their run to glory, only failing to score in 2 games. A good job too because they only kept 4 clean sheets!

Si Hall scored TEN hat-tricks and a double hat-trick on his way to claiming the Golden Boot.

The only other players to bag hat-tricks were Sam Rollason, and Matty Gibbs (on the last day of the season).

Scoring that hat-trick took Matty to 15 league goals, a total his manager Aaron had bet £20 he couldn't reach, to motivate him.

Deddington Reserves conceded NINE penalties during the season. Including shoot-outs, Barry Debenham managed to save one out of fourteen kicks he faced.

Despite all the spot-kicks, the Reserves did not suffer a red card all season.

After capitulating to Finmere Reserves in January 2008, the Reserves only lost two league games the rest of the year, none in 2008-09, which began with thirteen consecutive victories.

The final day saw penalty duties given to outgoing Captain Fantastic Jase Timms, who unfortunately couldn't retire with a goal, as the 'keeper pushed his effort away!

The home game against KEA 'A' was won with the last kick of the game, from the penalty spot. The drama proved unbearable for one KEA puffin, who snapped our corner flag in anger!

Captain Jase Timms, and both co-managers Aaron Bliss and Tim Spencer, stepped down from their positions following the season's finale, with their ambitions fulfilled in spectacular style by a dazzling squad built around the sensational Si Hall.
FINAL TABLE:
Division Three :
League Table
Saturday, 13 September 2008: Steeple Aston Reserves v Fenny Compton Reserves - Home Win was awarded
Saturday, 28 February 2009: Heyford United Reserves v Heyford Athletic Reserves - Home Win was awarded