DTFC


Deddington Town FC was formed in 1888 and is one of the oldest clubs in the county.
In this current season as we start the 2017/2018 campaign we celebrate our 129th year.

The club currently has ten youth teams, two adult teams and an affiliated veterans squad.

Our youth teams play within the Witney and District Youth Football League.

Our First Team play in the Banbury and Lord Jersey Premier League,
our Reserves in the BDLJ Division 1.
Quiz Night Friday 12th January 2018
Deddington Town Football Club are holding a Quiz Night at The Windmill Centre, Hempton Road, Deddington
on Friday 12th January at 7pm.
£10 per person with teams of six. Entry includes Jacket Potato and Chilli!
To reserve your team a place or for more information,
please contact Tom Davies via emai at tomwdavies@btinternet.com
Deddington Town Weekly 50:50 Prize Draw Result
Congratulations to adults player Tom Tarrant, who wins this
week's £25 prize in the club's 50:50 Prize Draw! That's the 2nd time in 4 weeks for Tom!!
Email dtfcfundraising@gmail.com to enter next Saturday's draw for only £1 per week.
The more that play, the more it pays!!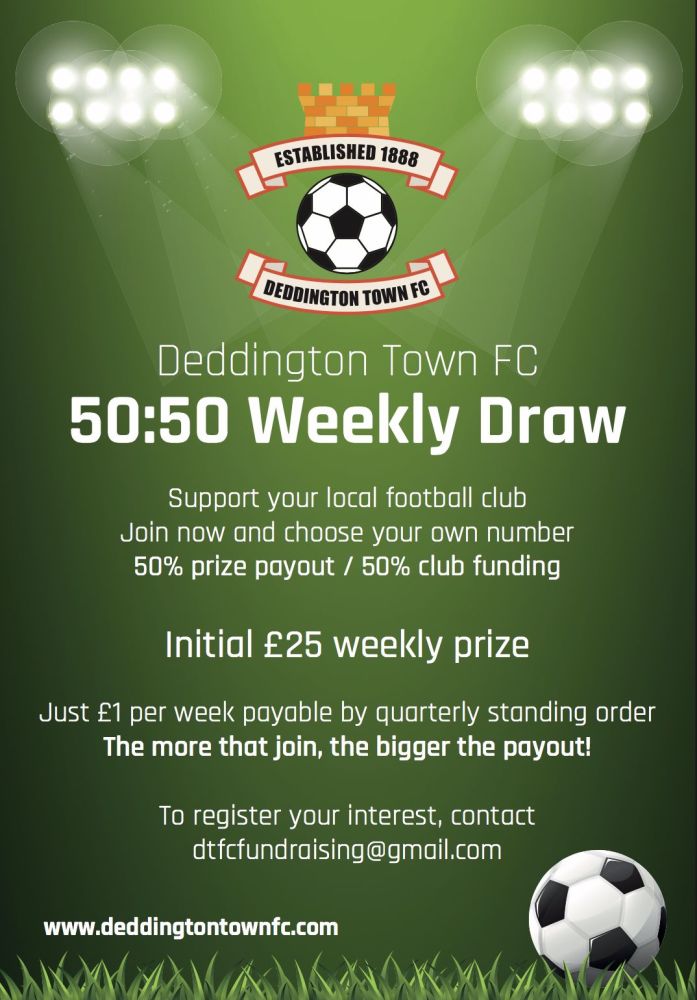 Deddington Town Under 13 Cobras Seeking New Players
Next season's Under 13 Cobras are seeking new players. If you are starting school year 8 in September or know someone who is, and are interested in joining a team please get in contact with Marten Sealby by email at marten.sealby@gmail.com .